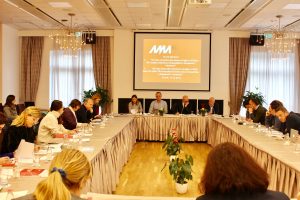 Today, on December 17, 2018, Audiovisual Media Authority (AMA) and the Electronic and Postal Communications Authority (EPCA) organized the first discussion forum about amendments to the Law No. 97/2013 "On Audiovisual Media in the Republic of Albania", as amended, and the Law No. 9918, dated 19.5.2008, "On Electronic Communications in the Republic of Albania", as amended.
These draft laws intend to lay down a legal framework governing the content of information provided online by electronic publication service providers in order to guarantee the right to information, the right of reply and the protection of dignity and fundamental human rights and freedoms. Nowadays, online media is increasingly occupying the Albanian media space, therefore it is necessary to regulate its activity by law.
Representatives of electronic media, experts and lawyers from the Ministry of Justice, the Council of Ministers and other public institutions, representatives of international organizations, and of associations focusing  on the media were invited at this meeting
The  journalists and media representatives present in the meeting were, in general, skeptical about the proposed amendments. Their thoughts were divided into three main pillars: the first viewed the amendments entirely unconstitutional and as flagrant violation of media freedom; the second had the opinion that the law needed to be amended, at certain aspects, but that this should not affect freedom of expression. It should only act against the fake news phenomenon; while the latter considered the amendments ineffective, because the abusers will use new technologies or social networks to express themselves.
In the following days, AMA will prepare a material comprising all the issues raised during the today's meeting, which will be forwarded to all participants and will make public the calendar of next meetings for discussions on draft laws.
Audiovisual Media Authority                                        
17.12.2018