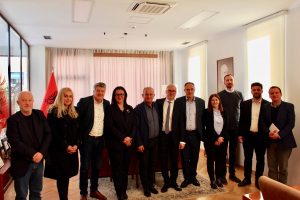 On Monday, Audiovisual Media Authority (AMA) organized, in its premises, a joint meeting with the Kosovo Public Administration, Local Governance and Media Committee, the Independent Media Commission (IMC). AMA hosted a delegation from the Parliament, Mr. Nait Hasani, Mr. Milaim Zeka and Mr. Valon Ramadani, and also Mr., Muja Ferati, the Chairman of Independent Media Commission, Mrs. Vlora Berisha, Mrs. Anita Muriqi, Mrs. Naile Selimaj Krasniqi, and Mr. Besim Rexhepi.
The purpose of this meeting was to exchange experiences between the two counterpart authorities and to consult about the digitization of broadcasting and provision of new media services. During the meeting, issues important for both Authorities, such as media development trends, technology innovations in the region and beyond were discussed. They also exchanged their experiences about the process of digitization. Both Heads of respective institutions focused on explaining how the process progress in Albania so far. Then they replied to concrete questions posed from representatives of IMC.
Mr. Hasani expressed his desire to undergo digitization process also in the territory of Kosovo, but he was also concerned about the financial challenge faced in the application of this technology.
Mr. Sala introduced the delegation to AMA is works in process.  The digitization process is being implemented successfully and we are expecting to meet the deadlines set, said Mr. Sala. He also informed the delegation with the challenges AMA had to face and how they were solved. Mr. Sala encouraged the attendees that digitization is a multi-beneficiary process for both the media and the citizen.
Mr. Muja Ferati was willing to collaborate and to start and finalize a process that is accessible for citizens. He was particularly interested in the technical and financial details of the process. During the discussions, it was accepted by both counterparts that it will be much easier for Kosovo to implement this new broadcasting technology due to its geographical features.
In the next coming weeks, they will continue with concrete actions and technical, programming and legal assistance on issues to be considered important for the stage of digitization that Kosovo is in.
Audiovisual Media Authority
Tirana, on 18.02.2019