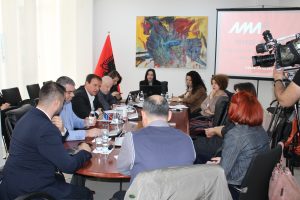 On March 26, 2019, the Audiovisual Media Authority (AMA) organized a round table about "Protection of children from harmful audiovisual content". The participants were not only representatives of AMSPs but also from State Agency for the Rights and Protection of Child, Office of Personal Data Commissioner, State Labor Inspectorate, Albanian Council of Media, Child Protection Observatory and Alliance for Gender Equality, etc.
Protection of minors form the TV screen is one of the most important issues in the performance of audiovisual operators and it is a subject of discussion by the media community in general.  AMA's Deputy Chairperson, Mr. Sami Nezaj, stressed at the opening of the round table that these activities aim at raising awareness of audiovisual editorial offices to comply with the legal framework, the Broadcasting Code and other secondary legislation into force.
It was highlighted that in 2019, one of the three main priorities of AMA are monitoring of content transmitted by AMSPs. In application of the requirements of Law 97/2013, as amended, and of the Broadcasting Code, following the monitoring carried out by AMA concerning the protection of children, it was noted that there are improvements, but yet, the attendees stated that there is evidence of negligence and violation by transmitting harmful content in the schedules when children are thought to be in front of the TV screen, or by ignoring the warning signs.
In her speech, the Head of State Agency for the Rights and Protection of Children, Mrs. Alma Tandili, stressed that she is bound and determined to cooperate with all other stakeholders and strive to make that she can to respect children and protect their rights. She invited journalists and all media staff to think first about children and then about their targeted audience or clicks.
Mrs. Klodiana Gjenerali, from Albanian Council of Media, said that with the means that the Council has available, they have organized many training and round tables to raise awareness and guide journalists about the way how they should report but also the care they should take when reporting events with minor protagonists. She invited parents to be more carefully and to prevent children from using them television screens.
Mr. Urim Bajrami, Chairperson of AMA's Complaints Committee brought to the attention of the attendees' concrete cases of ethics and children from Albanian audiovisual media.
The round table was conceived to make a presentation of current factual situation and open discussion by the attendees on protection of minors from harmful audiovisual content, violent scenes, use of hate speech and discrimination, pornography, use of narcotic drugs, etc.
Audiovisual Media Authority                                                    
Tirana, on 26.03.2019