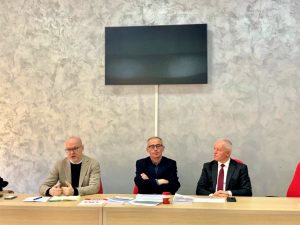 On Friday, January 31st 2020, two new publications of the Journalism and Communications Department were presented in the framework of projects supported by Audiovisual Media Authority (AMA), at the Faculty of History and Philology, University of Tirana.
"Audiovisual Media Market, Audience Behavior and REGULATORY FRAMEWORK" and "Program Offer of Albanian Television Broadcasters" are two factual and analytical files, as part of researches that have been conducted in the last two years by members of Journalism and Communications Department.
Students and lecturers who attended the presentation expressed their appreciation to the quality and professionalism of both researches, which serve as an excellent database and a review on audiovisual markets dynamics and trends in Albania.
The Dean of the Faculty of History and Philology, Prof. Dr. Sabri Laçi described the Journalism Department as the most active department in research and scientific areas and cooperation with domestic and world institutions, and also stated that he was confident that the two books would remain a reference of modern knowledge and information to lecturers, students and researchers.
The head of AMA, Mr. Gentian Sala deemed their cooperation with the department as a priority since 2015, when the international scientific conference on digitalization was held. According to him, cooperation between a public university and a public institution should be more frequent in the country, because it has a very positive impact on both the institutions and the society.
"Following this 5-year cooperation, we will initiate internships at AMA within February this year. We expect interested students, because internships are productive for both students to get to know the audiovisual market and regulatory authority better, and the authority to benefit from youth energy in order to improve through innovations of journalism and communications students." – he stated, among other things.
The head of Journalism and Communications Department, Prof. Assoc. Mark Marku considered the cooperation between AMA and the Department as a model to be followed by other public institutions, owing to the real impact of study and research projects, as well as the prospective and relevance of the database acquired by the professional and extensive work.
"We come to the aid of audio and audiovisual operators for them to better understand the dynamics of technological developments and broadcast content. We introduce you to competent analyses and facts on future trends, providing examples and models of international audiovisual media."
Prof. Assoc. Mark Marku briefly presented some of the main findings in both scientific publications, which can be used by students, lecturers and all stakeholders at the fund of Journalism and Communications Department.
Audiovisual Media Authority
February 03th, 2020