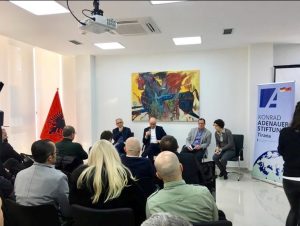 The Audiovisual Media Authority (AMA), in cooperation with Konrad Adenauer Foundation (KAS) and the Journalism and Communication Department at the University of Tirana launched on Wednesday, December 12, 2018, the project "LOCAL ELECTIONS AND MEDIA".
On the eve of June 2019 local elections, the three partners are engaged to organize some training activities to improve reporting of local election campaign with local journalists across the various regions of the country. This initiative intends to enhance the quality of electoral process coverage. The journalists will have the opportunity to acquire knowledge and exchange experiences on how to satisfy their duty on the basis of the principle: The journalist should not teach voters about who to vote but tell them what they are voting for.
In his welcome speech, the AMA's Chairman, Mr. Gentian Sala, thanked the German Foundation for its support and welcomed the cooperation with the Journalism and Communication Department of TU. Mr. Sala stressed that the quality of reporting, and in particular of elections, remains one of the measuring factors of democracy.
The Head of KAS Albanian Office, Mr. Walter Glos, emphasized the importance of establishing a stable and distributed democracy for all citizens. He said that the KAS is helping with all its available means to strengthen democracy in the country. "Local journalists are an instrument to understand better the country's dynamics."
Mr. Mark Marku, Head of Journalism and Communication Department at TU evaluated the project and expressed optimistic about its achievements. He also mentioned the cooperation with AMA made so far and admitted that each of these co-operations had influenced in the quality of journalism, journalists, students and news reporting.
Audiovisual Media Authority
Tirana, on December 12, 2018