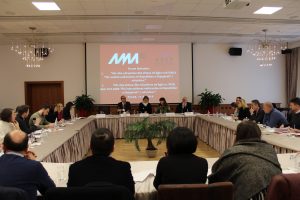 Today, on January 11, 2019, the Audiovisual Media Authority (AMA) and the Electronic and Postal Communications Authority (EPCA) organized the fourth discussion meeting about amendments to the Law No. 97/2013 "On Audiovisual Media in the Republic of Albania", as amended, and the Law No. 9918, dated 19.5.2008, "On Electronic Communications in the Republic of Albania", as amended.
Representatives of electronic media, senior managers and lawyers of the Ministry of Justice, Ombudsman, and other public institutions, representatives of international organizations, and of associations focusing on media and human rights were present in this meeting.
The fourth meeting was a follow up of the three previous meetings. The Deputy Minister of Justice, Mrs. Teuta Vodo, invited all participants to give their comments and reserves about these draft laws and she welcomed any opinion to improve the draft project opened for discussion. Mrs. Vodo informed the participants about a series of judgment of the courts of European countries which dealt with "Fake News".
The Ombudsman, Mrs. Erinda Ballanca, present at the meeting, said that any individual that expresses himself/herself  in the online and audiovisual media should be accountable and liable for what he/she writes and publishes. Mrs. Ballanca recognized the need to regulate online media through legal acts. However, she advocated the idea that self-regulation or another body outside AMA could perform this function. She pointed out that it is a responsibility of each of us to confirm "the fact" that is being published and to distinguish it from an "opinion".
Mr. Besar Likmeta, representative of BIRN Albania, was against the adoption of the proposed amendments, while stressing that these acts undermine freedom of media and freedom of expression. Mr. Likmeta emphasized that, for the moment, there is no flux of  fake news in Albania, but there is a flux of government propaganda and power. – These draft laws are not worthy of how citizens are treated,- he added.  Mr. Elvin Luku, a media researcher and representative of Medialook raised the problem that the draft law does not rely on any study that coincides with Albanian media reality. Therefore, it provides for abusive practices and fines that are disproportional to the traditional media. All of this could lead to inevitable shutting down of portals.
Mr. Luku went on saying that all media centers and organizations have rejected this law in principal because it is considered as a censure. The proposed draft laws do not contain any journalistic concept, particularly of online media. These draft law goes beyond online media and it wants to be effect on everything that is made online.
Mr. Altin Azizaj, from the Children's Rights Center, said both draft laws bear political weight. After emphasizing that legal regulation of online media is needed, he went on mentioning the problems of both draft laws, starting with the definitions, setting of a register, fines, blocking of sites, or what happens to online websites that only make republications.
Mrs. Alma Tandili from the State Agency for the Rights and Protection of Child said the Agency is for the draft laws. We will soon call a conference on protection of the rights of child and broadcasting about them, said Mrs. Tandili, because we consider a huge problem the way how children are treated in online media.
AMA's Chairman, Mr. Gentian Sala, invited all attendees to give their thoughts. Journalists do not trust in public institutions, said Mr. Sala, but the principles presented in the proposed draft remain in fact the same with those applied in audiovisual media.
All concerns will be presented in brief to the Ministry of Justice.
Audiovisual Media Authority                                                                                            
Tirana, on 11.01.2019