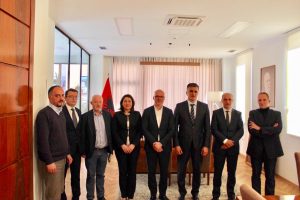 On Monday, Audiovisual Media Authority (AMA) organized, in its premises, a joint meeting with Montenegrin Electronic and Postal Communications Agency. AMA hosted a delegation from Montenegrin Agency, such as Mr. Zarko Darko Grgurović, Director-General of the Agency, Mr. Boris Jevrić, Deputy Chief Executive Officer for Radio-communications, Mr. Elvis Babačić, Manager for Fixed and Mobile Radio-communications, Mr. Amir Molazećirović, Manager for Audio/Audiovisual  Broadcasting.
The purpose of this meeting was to exchange experiences between the two counterpart authorities and to consult about the digitization of broadcasting and provision of new media services, as well as to intensify the cooperation among both authorities.
The meeting was mostly technical and some of the key issued discussed were: the use of radio frequencies at 800 MHz band and harmful interference in this band; Future plans for using the 700 MHz band; Future activities in the field of radio frequency coordination for FM radio and DTT systems; Exchanging information and experiences between our NRAs; Signing a Memorandum of Understanding between our NRAs, joint regional projects, etc.
Mr. Sala made an introduction of the Albanian media situation and of the past and present challenges of Albanian media at the moment. Moreover, he informed the delegation about the digitization of audiovisual broadcasting in Albania. Mr. Grgurović, on his side, informed
Mr. Sala and Albanian counterpart about the developments and progress of media and audiovisual and electronic environment in Montenegro. The digitization process is already completed in Montenegro.
Another aspect discussed during the meeting was the interference of several Albanian radios in the territory of Montenegro, particularly during the summer season. Both counterparts agreed to find a technical solution and as little bureaucratic as possible to this problem.
Mr. Sala and Mr. Grgurović agreed to meet again in Podgorica or Tirana to finalize the talks about the technical solution to the items of agenda, but also for other issues in the context of regional cooperation.
Audiovisual Media Authority
Tirana, on February 25, 2019